Over the last two weeks I've been doing a ton of research online about the state and future of Programmatic Ad Buying. For sure there are a ton of tech prognosticators out there talking about optimised algorithms, probabilistic multi-screen story telling (dibs on the band name), conquering the In App challenge, integrating 3rd and 1st party data into decision engines, and more. Yet, not one article I've come across has discussed the importance of the creative itself.
This is a consistent issue in our industry: we are so enamoured with our own tech and math genius, we often overlook the emotional quotient in advertising. We talk a big game about getting the right ad to the right person on the… etc. etc. but we never talk about getting 'the most beautiful ad' or the most 'compelling ad' or really anything else to with the quality of the creative itself. For those of you who watch Mad Men, it's as if we're all Harry Cranes and none of us are Peggys or Dons or Teds.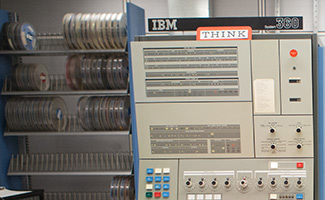 Imagine if Mad Men was just about Harry. I'm reminded of a classic Roger Sterling line from the most recent episode: "Cutler won't be happy until this agency is just Harry Crane and his computer." It only now struck me how heavily we have bet on the numbers, leaving the creative and the quality of the message behind for someone else to worry about. I searched for some thought pieces on the state of programmatic creative and it's pretty slim pickings. This piece, from AdExchange, though, I thought was a good start. The new breed of 'Math Men' need a new breed of creative lead to really succeed.
A marketer who chooses to could employ a strategy of "right message to the right person at the right time on the right device on the right operating system at the right geofenced location during the right weather conditions …" In other words, the possibilities of highly relevant, "context-aware" advertising have never been greater. And yet, a one-size-fits-all creative strategy largely reigns supreme.
via It's Time To Fix Programmatic Creative – AdExchanger: News and Views on Data-Driven Digital Advertising.