All the noise around the RocketFuel and Mercedes-Benz fraud issue may be just that — noise but the problem of online ad fraud, particularly in relation to RTB and programmatic trading, isn't going anywhere anytime soon.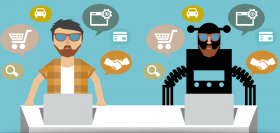 One of the reasons I'm so excited to be working the ridiculously clever team at Pixalate is that they saw this issue coming from a mile away. They were building solutions to help buyers and sellers combat the effects of fraud before all the hype. In a way, they were fraud-fighting hipsters, battling the bots before it was cool.
Jalal Nasir, co-founder and CEO of Pixalate, has a great piece, complete with some very funny terms for the types of Fraud his platform can detect, in this week's ExchangeWire.
Forecasts suggest ad fraud could cost marketers as much as $11bn in 2014, a 22% increase over 2013. Notwithstanding any unintentional inflation in these stats, it's clear that ad fraud is running amok. At the same time, RTB display advertising continues to grow quickly. Jalal Nasir, co-founder, Pixalate
The Truth About Online Ad Fraud | ExchangeWire.com.
Get in touch
If you'd like to talk to me about Pixalate, I'm their exclusive representative in Europe. Either drop me an email, grab at Digiday's EU Publisher Summit in Barcelona.