As I continue to dig into the dark and murky world of malware and madvertising I am discovering some pretty cool stuff. Here's a great diagram of all the things that nefarious individuals can do once they gain access to your computer — even a basic web-browsing and email-checking one.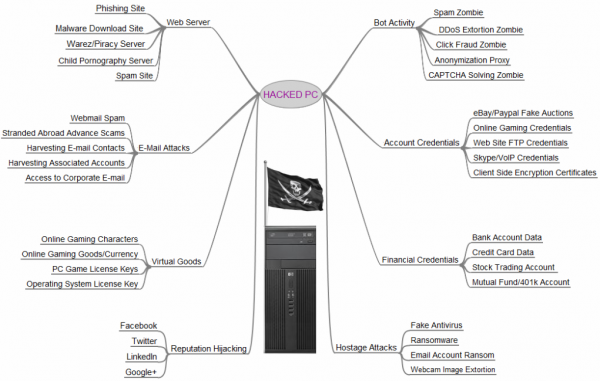 Source: The Scrap Value of a Hacked PC, Revisited — Krebs on Security
From his post:
One of the ideas I tried to get across with this image is that nearly every aspect of a hacked computer and a user's online life can be and has been commoditized. If it has value and can be resold, you can be sure there is a service or product offered in the cybercriminal underground to monetize it. I haven't yet found an exception to this rule.
I definitely recommend Brian Krebs' site if you're interested in this stuff. He's kind of a (somewhat nerdy) badass.